On a day filled with knowledge and opportunities, August 22nd granted us the honor of participating in the exciting Salesforce Customer Innovation Caribe Day 2023 event in Santo Domingo, Dominican Republic. The meeting brought together business leaders and experts from Latin America to explore the latest trends in technology and digital transformation.
Throughout this event, we had the opportunity to delve into the most impressive news from Salesforce, with a spotlight on the implementation of artificial intelligence in its solutions. Learning about how this innovation is revolutionizing the way businesses operate and how it can empower customer service in unprecedented ways was truly inspiring.
One of the central points of conversation was the importance of artificial intelligence in enhancing customer service. AI-powered tools can personalize and streamline the customer experience, fostering deeper and longer-lasting satisfaction.
Furthermore, the emphasized benefits of transforming a company into a true "Customer Company" were noteworthy. This approach involves placing the customer at the core of all operations and decisions, resulting in stronger, more enduring relationships, as well as sustainable long-term growth.
At Xentric 360, we extend an invitation to all companies in the Caribbean to embark on the journey of digital transformation and become genuine "Customer Companies." With our experience in implementing Salesforce solutions and our dedication to innovation, we are here to guide you through this exciting endeavor.
Digital transformation is no longer a choice but a necessity for maintaining competitiveness in today's business world. At Xentric 360, we believe in the potential of technology to drive growth and excellence. Join us and Salesforce on this transformative journey, where every company can craft their success story.
The future is here, and together we can elevate every customer interaction to exceptional heights. We invite you to join us on this thrilling voyage towards innovation and success!
Should you wish to learn more about how Xentric 360 and Salesforce can revolutionize your business, do not hesitate to contact us. We are here to assist you in reaching new heights in the digital age.
Special Announcement: Celebrate 20 Years of Trailblazing Success with Dreamforce!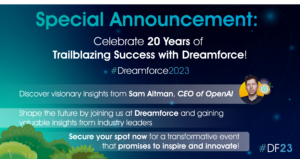 Before we delve into the significance of a Sales Performance Management system, we want to remind our readers of an upcoming monumental event. This fall, Dreamforce, Salesforce's annual event, celebrates its 20th anniversary. For two decades, Dreamforce has empowered Trailblazers by introducing innovative technology solutions and sharing numerous success stories.
This year, we are thrilled to announce the presence of Sam Altman, CEO of OpenAI, at the event. Altman, renowned for his visionary leadership, commenced his journey as the co-chairman of Y Combinator, nurturing the growth of emerging startups. Since assuming leadership at OpenAI, he has played a pivotal role in advancing breakthroughs in artificial intelligence and its application across diverse fields. Backed by years of expertise in the tech landscape, his insights promise to add immense value to the event.
Do not miss this opportunity to learn, connect, and be part of a global community that is shaping the future. Register today!
**Join the Business Transformation Revolution with Xentric 360 and Salesforce!**
*For more information, please visit our website: www.xentric360.com*