Salesforce for Financial Services
Digitalization and innovation have arrived in the financial services industry. Mobile applications, social media interaction and the ease of providing service through any channel are elements expected by customers, both for personal banking, corporate banking, investment and insurance, as well as other financial services, with Salesforce's Financial Services Cloud.
Corporate banking
Boost advisor productivity and engage customers with intelligent alerts and proactive actions. You can build deeper relationships and grow your portfolio faster.
Insurance
Industry changes have created an urgent need for insurers to transform themselves to maintain trusted relationships with agents, policyholders and brokers. With Salesforce, connect policyholder information across multiple channels and lines of business, while delivering a single customer experience across case management, sales, claims and service.
People Banking
With Salesforce, you can create a holistic view of every customer, for every product and line of business. You'll be able to collaborate in real time, provide relevant and connected answers, and turn more prospects into customers for life.

Healthcare and Life Sciences
New standards in processes, connectivity and the generation of personalized experiences are breaking into healthcare systems. Given the above, putting patients at the center of your strategy has become a priority, as well as driving innovation in the sector with cloud technology, mobile devices and social networks.
Health Cloud
Optimize care coordination with intelligent patient management and collaborate with the entire care network in real time. Empower patients to actively manage every aspect of their health and deliver greater patient satisfaction.
Life Sciences
Salesforce for Life Sciences helps pharmaceutical and medical device companies collaborate across entire ecosystems, bring new products to market faster, transform valuable data into actionable insights, and revolutionize patient care.
Industry 4.0
We live in a digital age where people, products, markets and communication channels are increasingly connected. Thanks to Salesforce's Industry 4.0 technology, you can get real- time interactions, connect devices, sell faster and, above all, outperform the competition.

Salesforce for Manufacturing
A custom-built solution for you as a manufacturer to provide transparency into your business and stay ahead of the needs of suppliers, customers and partners. Manufacturing Cloud is a CRM that includes features such as sales agreements, full view of volumes and revenue, real-time order management, forecasting, quota definition, new business information and run rate. . Now your sales, operations, finance and product teams can collaborate and respond quickly to changes in demand and generate predictability across your entire ecosystem

Retail
Shoppers demand a pleasurable and memorable shopping experience. Stores are reinventing themselves as showrooms, distribution centers and experience centers. Retailers of all sizes are challenged to stay constantly up-to-date to remain competitive. Salesforce Retail CRM helps you with that daily task by making all your customer information available to all areas of the business. Increase your associates' potential with collaboration tools and boost shopper loyalty with personalization at every part of their buying journey.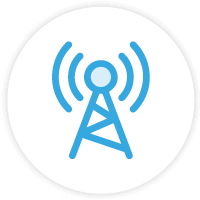 Communications and Media
Generate experiences for your customers through personalized interaction at scale.
Communications
With Salesforce, you'll make end-to-end customer information available to all your employees, facilitating interaction and the delivery of personalized sales, service, and marketing experiences.

Salesforce for government
Track citizens' digital needs, improve interaction, build trust, and drive innovation by using Salesforce technology to connect citizens, agencies, and processes for better service.
Local Government
Connect citizens to government quickly and efficiently.
Local governments are modernizing their operations with the support of technology. Through Salesforce solutions, you can integrate legacy systems, automate processes, and make data-driven decisions in real time.
State
Countries are presenting a new paradigm as technology, tenacity and determination drive innovation. Find out how Salesforce for Government can support your institution in this transformation.
Xentric 360 offers you solutions for Industries
Xentric 360, Salesforce partner in the Caribbean is your trusted provider to obtain Salesforce for Industries and contribute to the digital transformation of our region.
For more information on Salesforce products in the Caribbean, write to us at info@xentric360.com or call us.
Addresses
Jamaica: 9th Floor PanJam Building. 60 Knutsford
Boulevard, New Kingston, Kingston 5. Jamaica.
Phone: +1 (876) 618-8850
Puerto Rico: Metro Office Park 7, C. 1 suite 204,
San Juan, 00968, Puerto Rico.
Phone: +1 (787) 200-2946
República Dominicana: Calle Rafael Augusto Sanchez 86,
Torre Roble Coporate Center Piso7, Santo Domingo, República Dominicana.
Phone: +1 (809) 792-5017
Trinidad & Tobago: Level 2, Invaders Bay Tower
Invaders Bay off, Audrey Jeffers Hwy, Port of Spain.
Phone: +1 (868) 235-6104