Dynamic Content Strategies: Elevating Engagement with Salesforce
Navigating the swift currents of digital marketing requires a keen ability to captivate your website visitors swiftly. Here, dynamic content strategies, championed by Salesforce, are indispensable. They empower you to customize your message instantly, engaging your audience with finesse. This piece delves into dynamic content's essence, its application, and real-time adaptability to user interactions.
How Can You Use Dynamic Content?
At its core, dynamic content is the art of crafting web pages that morph in real time, responsive to data and user interactions. This Salesforce-backed method eclipses static content by evolving with your audience's site engagement. This tactic is paramount for a personalized, captivating customer journey.
In addition, employ dynamic content on your site with Salesforce's insights to fine-tune messages, visuals, and offerings, reflecting individual user preferences. Imagine displaying product suggestions tailored to past purchases, or aligning content with browsing habits—all in the user's language, thanks to geolocation data.
Adapting to User Behavior in Real-Time
A prime benefit of Salesforce-enhanced dynamic content is its agility in mirroring user behavior instantly. User clicks, searches, and time spent are data goldmines, prompting content adaptation that keeps pace with visitor actions. If a user gravitates towards your blog, dynamic content, with Salesforce's analytical prowess, can amplify this interest, enhancing user experience and satisfaction.
Tips for Dynamic Content Customization
Here are strategies to maximize dynamic content's impact:
Audience Segmentation: Use Salesforce to delineate user groups by behavior and demographics for targeted content delivery.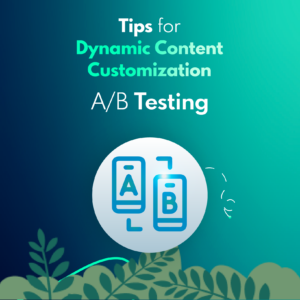 A/B Testing: Employ Salesforce tools to refine dynamic content, bolstering engagement and conversions.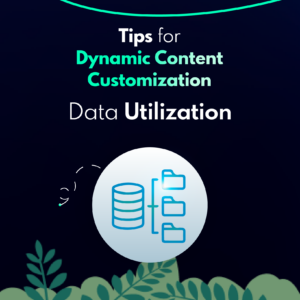 Data Utilization: Salesforce analytics can track user trends, sharpening your content's relevance.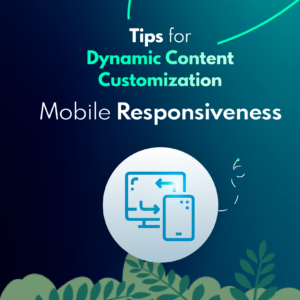 Mobile Responsiveness: Ensure smooth dynamic content delivery across devices with Salesforce's robust platform.
How Can You Manage Your Dynamic Content with Salesforce?
Navigating dynamic content's complexities is streamlined by Salesforce Marketing Cloud. This platform is your ally in creating, deploying, and tracking dynamic content with ease.
Incorporating Salesforce allows for seamless user data integration, audience segmentation, and real-time personalized content creation. This not only elevates the user experience but also amplifies your marketing strategies and conversion rates.
"McKinsey & Company found that 71% of consumers expect companies to deliver personalized interactions, and 76% get frustrated when this doesn't happen. Furthermore, they highlight that smart personalization can enhance performance and potentially boost revenue by 40%." This information emphasizes the critical role dynamic content plays in meeting customer expectations and driving business growth. 
To sum up, dynamic content, powered by Salesforce, is a transformative force in digital marketing. Its real-time adaptability forges a bespoke, engaging customer experience.
Dynamic content transcends trends; it's a strategic powerhouse that can propel your business to new heights. With Salesforce, embrace this revolution and witness a surge in user engagement and conversion rates.
To fully harness the potential of dynamic content, segmentation, continuous testing, and data leverage are key. Partner with Xentric 360, your Salesforce ally, to revolutionize your marketing. 
We are thrilled to share this fantastic news with you all. As Xentric 360, we have been recognized as one of the top Salesforce solutions companies in Latin America in 2023. This recognition by CIOReview underscores our prowess in digitally transforming and boosting client sales through Salesforce solutions. We extend our heartfelt thanks to our team for their relentless efforts and to CIOReview for acknowledging our commitment to excellence. This honor motivates us to continue delivering exceptional service and innovative solutions to our clients.